What is TAA?
Adrian Pop | 2020-11-02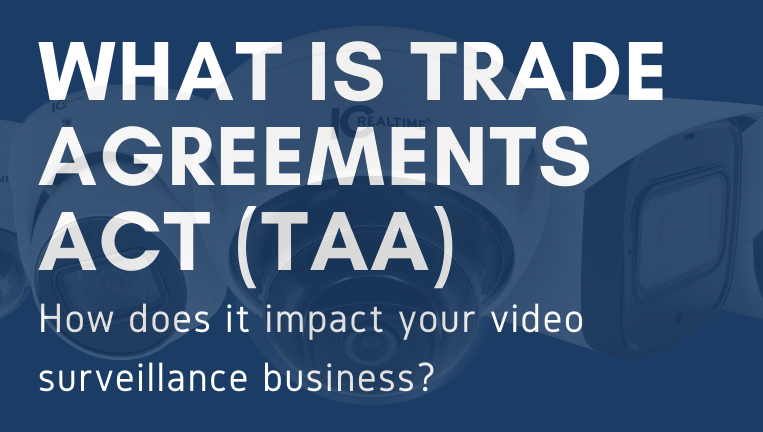 You might be asking, "Aren't there other Acts that supersede the Trade Agreements Act," such as the National Defence Authorization Act (NDAA)?
Sure, there are. Government procurement has the potential to influence the purchasing decisions of the masses. This topic has found its way throughout many verticles, from commercial to retail, industrial to hospitality, healthcare, schools, and certainly down to the residential market. Common comments include, "If it's not good enough for the government, why would it be good enough for me?"
Although TAA compliance is not restrictive down to specific components, do not tell yourself that there aren't tangible benefits because there certainly are. IC Realtime is a U.S. owned and operated company giving you an alternative to Chinese made gear with offices in Florida and Arizona.
CONGRESSIONAL ACT
Which governs the trade agreements negotiated between the United States and other countries. It was designed to foster & maintain an open world trading system and expand US commerce while enforcing & improving international trading rules & enforcements.
THE SIMPLIFIED ENFORCEMENTS
Government procurement is restricted to U.S.-made or designated country end products. The "substantial transformation" clause can present complex interpretation issues and should be evaluated on a case by case basis for conformity.
UNPREDICTABLE BUSINESS IMPACTS
With the lack of alternatives to China made video security, IC Realtime has shifted manufacturing to S. Korea, a TAA compliant country. The stigma based on manufacturing in China is widespread across multiple industries, including residential. Government procurement is where it all started.
WHY TAA MATTERS
Goods made in a TAA compliant country do not violate human rights, aren't foreign government-owned, honor privacy, and typically offer better quality control. Your customers expect this benefit. Don't you expect it?

Transitioning our manufacturing from China to South Korea means that IC Realtime dealers can confidently bid on projects of larger magnitude and not worry about the stigmas associated with video security gear made in China. There are no human rights violations, no foreign-government ownership, better quality at affordable prices, and much less worry around cybersecurity or "hacking." And, that is a breath of fresh air. Rest easy, knowing that your customers are getting the same peace of mind that you are. Next time you're in a situation where alternatives to gear made in China are desired, look at the TAA series powered by IC Realtime. You'll be glad you did.
Interested in this blog? Download the infographic HERE.
Tags: Trade Agreements Act, TAA, Compliance, IP Cameras, Video security, Surveillance, NVR, network video recorder
---
Go Back